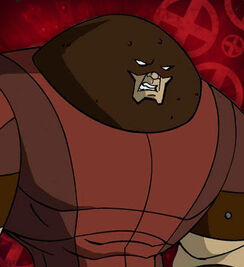 Juggernaut Parece Ser Una Especie De Mutante Masculina,
Su Traje Es Hecho De Grandes Piezas Rojas De Metal
A Medida El Es Fuerte Sin Ni Si Quiera Tener Un Poder.
Desde Que Sus Padres Le Empezaban A Hacer Mal
Johh Quiso Unirse A Los Villanos. Al Menos No Tiene Ningun Poder. Pero Si Una Fuerza Que Puede Provocar Un Terremoto.
Nombre: Johh Cervera
Años: 39
Estatus: Vivo
Relaciones: Desconocido
Altura: 9-11
Ad blocker interference detected!
Wikia is a free-to-use site that makes money from advertising. We have a modified experience for viewers using ad blockers

Wikia is not accessible if you've made further modifications. Remove the custom ad blocker rule(s) and the page will load as expected.